ProActive Solutions had a fun and insightful week attending this year's Netsmart Connections conference. We were proud to partner with our friends at Infinidat to serve as a Gold sponsor as a way to show our true investment in our clients.
Netsmart provides high-quality solutions that help healthcare companies serving vulnerable communities to deliver integrated, value-based care now and in the future. Their annual conference is an opportunity for their customers and partners to come together to share experiences and knowledge and hear innovative ideas, helping to positively impact mental health and home health (hospice) providers.
Highlights included learning just how much work county health departments do for their communities, that robotics is now mainstream both as a physical as well as a software option, and AI is here and now. In fact, a lot of discussions were focused on how AI is not just a major disruptor but still needs work to avoid bias and inaccuracy.
Cloud was also a major focus area and how it can enable faster innovation, operational efficiencies, and the ability to better meet industry standards and regulations. The repeating theme is how technology is critical in meeting the always-evolving world of healthcare regulations… a tough business for sure!
Our favorite part of the conference was simply sitting with our Netsmart customers. They are amazing and inspiring people who are working hard to deliver quality patient experiences and outcomes. We were humbled by the efforts they undertake to make a positive difference in their communities. Getting to hear firsthand from our customers' customers was a privilege we don't take for granted and drives us to be a better partner to Netsmart.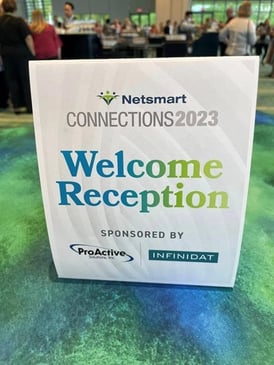 Now that we are back home, we are motivated more than ever to continue learning and providing Netsmart with the best quality help possible to achieve its goals. Thank you again, Netsmart, for allowing us to be a part of your special event.