What a whirlwind May was as we attended several conferences, wrapping up with Red Hat Summit. Red Hat integrated AnsibleFest into Summit this year, providing a diverse amount of sessions, including technical, strategic, and a number of customer use case sessions, which were a personal favorite.
OEM Conference New Product Announcements
As is typical with an OEM conference, new product announcements created quite a bit of buzz amongst attendees. Artificial Intelligence, Machine Learning, and Security are clear drivers of current product/solution innovation. Announcements that caught our attention:


Ansible Lightspeed – IBM Watson/AI integration with Ansible. The solution will help developers create Ansible content more efficiently. It reads plain English entered by a user, and then accesses IBM watsonx foundation models to generate automation code recommendations. The solution will be free to Ansible users and available via the Ansible extension for Visual Studio Code.





OpenShift to the Edge – MicroShift - Teased back in February, MicroShift had its formal unveiling at the conference. The product unites the performance, security, and reliability of RHEL with a lightweight version of OpenShift, called MicroShift. Be on the lookout for more to come on this topic.





Red Hat Advanced Cluster Security Cloud Service – A Kubernetes-native security cloud service that supports both Red Hat OpenShift as well as non-Red Hat Kubernetes platforms, including Amazon EKS, Google GKE, and Microsoft AKS.
Diving Into Operational Technology
We heard from several customers, such as Volkswagen, Advance Auto Parts, and Citizens Bank. We were fortunate to sit in on the ABB session that dove into Operational Technology. They reviewed their year-long Red Hat partnership that resulted in a new product extending operational consistency for industrial use cases across the edge and hybrid cloud environments. You can learn more on the Red Hat blog.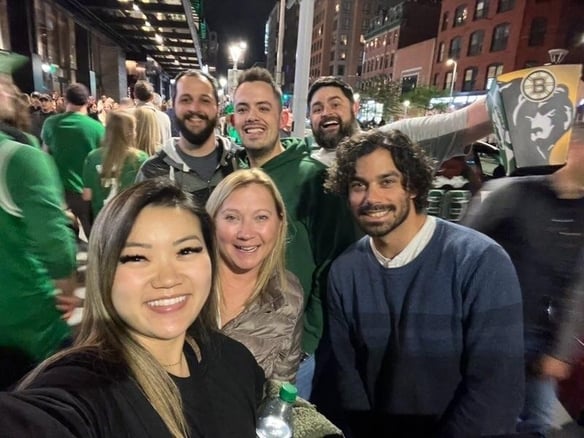 In addition to learning, we made sure to have some fun with our clients while in Boston. We visited a jazz club, enjoyed some tasty beverages at the Sam Adams brewery, and lucked into seeing the Boston Celtics play the Miami Heat in the NBA Eastern Conference championship. Work hard, play hard is our motto, and we love it when we get to enjoy a conference with our customers.